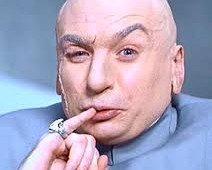 Today's Way Awesome Blog Post: Thursday, Measure Everything Ya Do Day
Length: Aww, take ya about four point two, well invested minutes
About: The Shoestring Step I had to take before making Five Figures (!) a month
Shoestring Step FOUR: Measure Everything You Do
Welcome back to the five-part series where I bare all about my first successful information product. It's a book about trading the stock market, and NO, I'm not going to sell you on it here. Because you're probably not in my target market for that particular product. But last I checked, sales were over one million dollars.
Heh… Just wanted to let you know it's really possible to make money on the internet… by selling something other than information about how to make money on the internet

In the last three posts we covered the first three Shoestring Steps:
Walk The Shoestring Steps With Me This Week: Get OFF Your ASS
(self-explanatory)
Walk The Shoestring Steps With Me This Week: Find Out Some W's
(learn your target market)
Walk The Shoestring Steps With Me This Week: Learn To CREATE Value
(make something folks wanna buy)
The first three Steps are all that's really required to build a semi-profitable business. The only two things you need to be in business are:
Access to a thing of value, and
Access to people that value that thing
…that's it! The difference between a garage sale  and most full-blown businesses is simply the duration.
As a serial entrepreneur, I've done the first three Steps dozens of times and started numerous small businesses.
BUT..! I never broke into the five-figures-per-month income zone…
….until I learned Shoestring Step Number FOUR: Measure Everything You Do.
What Gets Measured, Gets Managed
I actually first learned about Shoestring Step Four while growing my martial arts studio. In the World Domination from ZERO post I talk about reverse engineering profits by checking in with every point in the sales funnel.
What gets measured, gets managed. ~Peter Drucker
We measured everything from how many leads came from each advertising source…
how those calls were handled…
the conversion into appointments, appointments to customers, customers to referrals…
…so on and so forth.
By having our finger on the pulse of the martial arts studio, we were able to make tweaks to our marketing in every step. The first time I ever broke five figures income in one month was from optimizing and reverse-engineering the sales funnel from top to bottom.
SO by the time I got to promoting my information product, measuring performance was old hat.
Step FOUR is Measure Everything You Do. Here are a coupla things RadioActive Trading has measured, and more importantly!! …what was learned by doing so:
Total Spent vs. Clicks
Here's where we divide the total dollars spent on pay-per-click advertising by the number of clicks obtained. For example, say the marketing budget is a thousand dollars and we get 400 clicks. That's $2.50 spent per person that sees our marketing message.
Hey, it beats the living tar out of the newspaper and yellow pages ads I cut my teeth on – where you spend a pile of money FIRST, and THEN see if anyone calls to inquire about your offer!
By measuring this ratio, we were able to know if we were making progress in making advertising cheaper or more effective.
A/B Testing
With a decent number of people clicking the PPC ad, it makes sense to begin testing already.
We'd like to know how often a certain ad gets clicked… versus another ad with a similar but slightly different message. "A" is what's working best right now, and "B" is what we want to use to try and BEAT "A".
Once one message starts getting more clicks than the other, it becomes the new "A" and we lather, rinse, repeat. We get more or cheaper clicks.
Clicks vs. Free Subscribers
The whole reason we want folks to click on our PPC ad in the first place is to tell 'em about our free report… and get them to give us permission to tell 'em more!
We keep track of how many folks opt-in to the mailing list and download a free report, telling them h ow I learned how to actually make money in the stock market, even if I was wrong more often than right picking stocks. They have to provide their email address to get the report.
Keeping track of this metric told us how effective our copy was at getting people to opt-in to the mailing list.
MORE A/B Testing
One test was sending half of the clickers to  a lead capture page (called a "squeeze" page) with, say, a picture of the product… and half to another page with a picture of a professional-looking, middle aged man sitting at a computer.
We found out that more people opted in to our mailing list with the middle aged man. This is probably because that guy looked like more than half of our intended audience: college educated, middle aged, savvy with tech.
By optimizing opt-in we got more leads from the same advertising dollars.
Subscribers vs. Email Opens
Wonderful thing about Aweber and iContact is that you can track how many folks open up an email message. You can also compare, side by side, what kinds of headlines worked to get your desired result; a clickthru to your offer, or sales page, or whatever next step you have in your funnel.
For me, getting folks to attend an online seminar is the goal. I get to share techniques that have worked for me to keep me from losing money, even make a stock "bulletproof". And at the end is our sales pitch, which tends to sell a lot of copies of my book.
There were two main metrics to track in this department:
1) Email Opens vs. Emails Sent
Say I send to a list of 10,024 subscribers to my free materials, and only  2,148 actually open the email. But another email sent to the same list gets over 4,000 opens..! It's time to look at that headline and see if we can do more like it.
Watching how many opens we had helped us write better-performing headlines.
2) Emails Opened vs. Clicks to Register
Same idea as above, just measuring the next step. Okay, so over 4,000 opened the letter. But almost no one clicks through. Was the copy inside bad? Did it not match up to the promise of the title?
The measure of people mailed, versus those that actually take action on what's in the letter, is called "clickthrough".
By testing and tweaking, I've been able to identify about a dozen types of headlines that get opened a lot, as well as a  basic outline of the kind of letter that gets the clickage…!
Reverse Engineering Profits
In a sales job I used to have, one of the half-truths we told ourselves was "It's just a numbers game."
In other words, don't take a missed sale personally. Talk to enough prospects, you'll meet your sales quota.
But some of us spoke to less prospects and made more money. Numbers game? Well, yes. But don't mistake the encouragement given to an unsuccessful salesperson as good marketing advice.
Yes, it IS a numbers game to sell a product. Out of ten thousand prospects, you may only get one sale.
Okay, so how did we get from ten thousand to one?
Say your marketing message was seen by 10,000 (search results or banner ad traffic);
1000 responded favorably (clicked your ad);
100 opted-in (subscribed to your newsletter and collected your freebie);
10 came to the next step (clicked through to a sales page or sales event like a webinar);
1 bought your product.
So it IS a numbers game; to sell 100 units of your product, you have to pay to get your initial message seen by 1,000,000 humans.
…or DO ya?
THIS is the reason we do Step Number FOUR: Measure Everything You Do.
Because at any point along that funnel, if we can improve things just a tiny bit it will have an enormous effect on the bottom line.
Say you test and tweak and improve each step along the funnel until:
you capture twice as many email addresses as before;
…get twice as many folks to open up your mails;
…have twice as many click through to your sales page or webinar;
…sell your product to twice as many visitors to your page or webinar.
Don't look now… but you've increased your sales sixteen times with the same budget!
And we haven't even begun to discuss up-selling, down-selling, and cross-selling at points along the path. That's some golden wisdom for another day

Next Step: Now Write EVERYTHING Down!
Steppers, thanks for reading this far through my series on how I took my first information product from zero to over $1 Million in sales. It happened not by accident, but by following the Shoestring Steps ONE through FOUR.
But the NEXT step..!
The first four Steps are where we create value for others. Step FIVE is where we truly begin to create value for ourselves.
I'll see you for that next post. It's gonna be LEGENDARY.
In the meantime, please post your questions and comments. Do YOU believe you can follow a simple five-Step plan and get to independence?
In case ya missed the first three Steps detailing how I got my first information product from zero to over one million dollars in sales, here they are again:
Walk The Shoestring Steps With Me This Week: Get OFF Your ASS!
Walk The Shoestring Steps With Me This Week: Find Out Some W's
Walk The Shoestring Steps With Me This Week: Learn to Create Value
Keep Stepping,
Kurt