Dear Reader:
Be careful, because two and a half minutes into reading this post… you're going to have a REVOLUTIONARY change in the way you think about social media; what "social media" really is, why it works… and most importantly! How YOU should use the 3 social media networks (that NOBODY thinks of as social media networks) to test your business ideas cheaply. Maybe even super-profitably.
How's THAT for an introduction?

What We THINK of as Social Networks
So, The Social Network.
I loved that movie based on the launch of Facebook. Though it wasn't accurate in every respect, it did contain a lot of truth.
ONE truth that stands out in particular is the fact that most folks going to most social media sites find monetization and marketing a bit off-putting.
This results in a bit of a love-hate relationship both on the part of Marketers and the "Marketed-TO".
The Marketers:
LOVE having a targeted list of people to which they may hawk their wares… but they
HATE having to pay per click, per view or per action
and they
HATE having to sell… without appearing to be  selling.
On the other hand,  the "Marketed-TO":
LOVE finding out about things when there is a good chance that they already will like it, based on their stated interests, likes, and dislikes.
LOVE knowing what their friends and peers are already doing, trying, and buying…  but!
They

absolutely…

…HATE, hate, hate the cheesiness of having commercial advertisements interrupt their social time.
Love and hate aside, learning to market using social media is not only smart.. in time it will be downright required of all business owners large and small. But for those of us that haven't learned (or just plain hate) to "send 90% engaging content and 10% promotional" or "to succeed on social media you need cocktail party skills"…
There ARE some social networks you can go to where everyone expects, even welcomes being marketed to and sold. Because right now, even NOW, there exists a triad of well-known social media sites… where none of the hate and all of the love reside.
Three Social Networks Where People EXPECT to Buy and Sell
Facebook, Twitter, Google+, YouTube.
Instagram, Pinterest, Vine, Tumblr.
These are what we THINK about when we hear the term, social media.
 When I typed, "What is a social network?" into Google, this is the first thing that came up: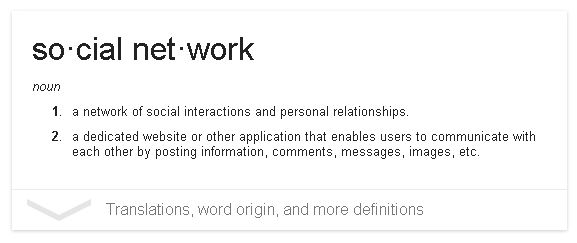 Now here's a question for ya… didja ever think of eBay as a social network? How about Amazon? Or the newcomer, Fiverr?
No one gets "put off" because they are being sold to on these sites. In fact, visitors to these sites come LOOKING for something to buy… or bookmark to maybe buy later. You have a free license to sell, sell, sell and no one thinks, "He/She is just a self-promoting jerk."
Yet according to the definition above..! eBay, Amazon, Fiverr, and the other platforms belonging to this family are social networks. Why of course. Aren't they "dedicated websites… [that] enable users to communicate with each other by posting information, comments, messages, etc."
WHOA. Social media is older than we think, isn't it? There were a number of selling platforms waaaay back in the beginning of the internet, but few have done better than eBay and Amazon. Why is that?
I happen to believe it's the social aspect of these monolithic platforms that is the key to their success. These sites have always placed a good deal of emphasis on communication between their users. eBay provided social accountability and proof through its feedback (mine's still at 100% BTW

). Amazon has their reviews and recommendations. Now Fiverr uses both.
Yes… so while YOU were thinking of sneaky/snarky ways to talk about your products and services on Twitter and
Facebook… without talking about your products and services on Twitter and Facebook… I was writing a catchy headline on Fiverr. So far,  nobody I'm aware of has thought of me as some cheesy salesman.
Check out the following tips on how to sell, while meaning to sell. You can build your social platform later on when you're profitable!
Using the Top Selling Platforms as Social Media, and Vice Versa
As I've asserted here as a basic tenet of Shoestring101… you only need two things to be in business:
Access to a thing of value
A way to communicate with people that value that thing..!
Another insight that I've posted is that when you sell your old exercise bike on Craigslist, that's a business transaction… but when you lather, rinse, repeat the cycle and sell another bike… and then another and another… that's when your side project actually becomes a small business.
It's the systematic selling that turns a single transaction into a repeatable flow of income. And while a lot of us are trying to learn to market on what MOST folks think of as social media…
… I'M-a gonna point out that it's much easier to break through the noise and actually sell something on a site where people go to buy stuff.
Say it, Neo.
Whoa.
Let's take a look at your small business idea:
Like to make stuff? Say you want to sell custom bags for laptop computers. SO the first thing you do is make a pile of it, then hire a "web guy" to build out a site. Then you go all SEO ninja on it and build a buttload of links.
NAW, silly. Make only a little inventory. Post a few pics on eBay or Etsy first and see if your stuff sells.
And at what price.
AFTER validating that people will actually fork over cash for your stuff (by actually making some sales, duh) THEN you can get fancy. You can probably scale up the price too, but not until after you're making sales.
Hey, do you know stuff? Are you good at a thing or two and think you can slap together an information product? Why, shoot… go on Twitter and Google+ and Facebook and beat yer hairy chest (ladies… not for you. I hope

). Tell the world something snarky and funny in 140 characters or less at least three times a day, then let 'em know you consult on the side or have an information product. That'll make you welcome in anyone's feed.
You know I'm being sarcastic, right? C'mon, track with me here… you know doing the above will just make you part of the noise. You COULD try to be snarkier and funnier than the rest of the crowd,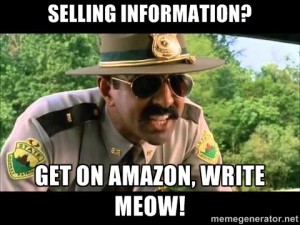 OR..! Instead you could write a short book to sell on Amazon Kindle. It looks pretty official, and actually establishes you as an expert. If your ideas are good enough to sell, you can put in a lead capture device (come to my site for a free gift!) and actually be getting paid per lead instead of the other way around.
Right now my book, Get Paid TODAY! Structure Your Small Business to be Profitable from Day ONE is making okay sales, but the REAL gravy is when I get emails and calls from readers for consulting. I charge $1.01 to take a phone call, then $101 for a Personalized Side Money Blueprint. The Unique Selling Proposition is that the $101 is payable when and only when my Personalized Side Money Blueprint helps your biz idea make you $1000 or more!
It's hard to say no to personalized attention from the author of a book on small business startup marketing when you're starting up a small business.  The point is this: rather than beating my chest on Twitter saying, "I can get you sales!" and becoming one voice among a million or mare saying the same thing… Amazon puts me in your living room where I get to prove it. And the book is just the beginning of a relationship; one good sale leads to another, bigger one.
SO if it's an information product you want to sell, I recommend getting on Amazon right meow!
Now, if you don't make stuff or think you know stuff, don't despair…
I'll bet you can do stuff. If service is your biz, list it on Craiglist for local. Go with Fiverr for global.
I've used Craigslist as well as Thumbtack, Fixr, and Yelp to market my local businesses. It's free and yes, it's social media because you get to share information with other users including reviews and such. If you have a local business, it's paramount to use these free services.
But what if you want to go global? And not leave your kitchen table or yer fave coffee shop (like yers truly)? Put out a shingle on Fiverr.
See if you can't get paid five bucks to do what you do best. If not, you may want to tweak your title and description (heh… you can probably find someone on Fiverr that'll do that for ya!) and try some more. Or try a unique twist to your service.
Remember, it's not the AMOUNT that we are concerned with right now. It's whether or not you can sell what you have to offer. Later on, you will make repeat customers of these folks… you'll be able to survey them to find out more of what they want… you'll be come up with more and unique ways to be of service. And you can then charge more. But your point of contact where you actually exchange money for services is key… not the amount.
I have offered and gotten money for three things on Fiverr:
A short video and explanation of how to increase the number of pushups you can do in a minute.
Copywriting services
A PDF of an article that you've read here: 7 Ways to Hack Google and Get Your Local Biz a Front Page Listing Free
Check it: there were a number of gigs that I offered that did NOT generate sales. But it didn't cost me a blooming thing to try. However, the above three things I DID get paid on encouraged me to look into them further. Por exemplar…
The pushup thing is going to become an info product. Look for it soon at http://www.howtodo100pushups.com
The copywriting service has put me in touch with a boatload of entrepreneurs and helped me sharpen the saw with my own marketing and copywriting skills. Get this: the Side Money Blueprints I put together for clients are being outlined as I'm getting paid to do learn more about my target market: entrepreneurs that need to market cheaply.
The last gig is just simple. Someone searches Fiverr for a way to get more local SEO, they see my gig and click on it.  I actually CHARGE 'em five bucks to  send them a PDF of my article of the same name. Takes me two minutes.
Get this: after they've used the principles for themselves, these Fiverr clients of mine often become subscribers to this very blog. But think about it… I didn't pay for the traffic. I got paid.
BTW, if you happen to be one of my wonderful Fiverr clients… THANK YOU for finding Shoestring101. I'll continue doing my durnedest to give you cheap and effective ways to market your small business.
Conclusion: Learn Sell On Social Media the Easy Way
SO whether you have a physical product, an information product, or a service to sell… quit trying to flesh out your Google+ page until you've already made a sale or two. Instead, focus on the social media where your hawking your wares is not only expected… it's welcomed.
Now, I'm not saying you should abandon your "real" social media marketing efforts. Yes, people do business with those that they know, like, and trust… so making friends and establishing contacts on traditional social media is still a must.
But..! I will tell you that I've made a number of friends out of paying customers, so it works the other way around, too.
SO sound off please dear reader! What do you think of using social media that's intended for selling to sell your goods? Agree, disagree, "Hey, that's bogus" or if you just had an"Aha!" moment… I would love to hear from You.
Until then,
Keep Stepping!
Kurt