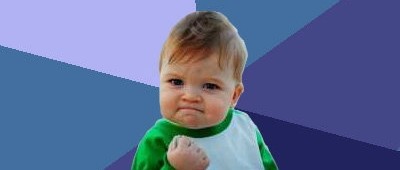 Hello Steppers!
Today's post: an update on where I am in the latest 30 Day, $1,000 Challenge.
Toward the end of 2014, I sent out a series of emails and a coupla blog posts saying that I would again take a  Challenge to start a side business with NO CAPITAL… then grow it into a side income yielding $1,000 monthly…. and do it in 30 Days or less.
I started January 1st.
Today I get you caught up.
My Fledgling "Funnel Creation" Business: Day 20
For this 30 Day Challenge, YOU picked the market and the type of business.
Last time I did a 30DC  ( check out WE MADE it! 30 Day, 1000 Bucks Challenge) I decided everything on my own.
Back then I picked a local, service business… used weekends and took my teenager along for the ride, and made $1195
profit in 30 days. We offered screen repair services to my local area of Colorado Springs.
An interesting side effect of that project was that I learned how to hack  Google SEO for  local results!
We started out using roadside signs for advertising, but later by measuring results of free versus paid advertising… we decided to focus on honing those methods.
Now as a result of that experience I don't pay ANYthing to advertise my martial arts studio or my screen repair biz.
You can read about how to hack local search results here: 7 Ways to Hack Local Seo For a FREE Front Page Listing
SO back to THIS particular 30 Day Challenge:
This time, instead of picking out everything myself I put it to a SurveyMonkey test.
My esteemed Readers said, "go global"… make it a service biz again… serving middle class clients.
So the first hurdle to leap for me was to decide what kind of service I can offer that I don't need to be physically present for.
I thought, "I've solved my OWN problem a couple of times in the category of writing ad copy and cobbling together marketing funnels… why not offer those skills as my service?"
Now, I want to remind everyone that I have three successful businesses in place right now.
Plus I'm a Dad, a Grandpa, and a friend.
SO I'm generally busier than a one-legged feller in a butt kickin' contest…
…but the purpose of the Challenge to to encourage people that despite crushing schedules, zero experience, and other obstacles, it's more than possible to create a business out of thin air.
Rather than quitting everything and focusing 24/7 on making my new copywriting and marketing funnel biz sing, I've kept up my usual schedule.
But I'm following a proven path: the Shoestring101 Principles.
Principle One: Get OFF Your ASS
Just like a lot of my Viewers and Readers, I don't have a lot of time to spare. But I'm set to prove that with a little hustle, you can make a good income on the side. YOU can start a business without risking your life savings, taking on partners or taking out loans.
Ya just gotta start.
SO day one… I put out my shingle on Fiverr, the number one platform for promoting a service biz
that can be done from anywhere in the world.
I already had a Fiverr account that I use for validating business ideas (and to waste money, $5 at a time on silly things like Zombie-ifying my picture

)
Now, Getting Off Your Ass may be the first Step to success in the Shoestring101 universe… indeed
in every endeavor…
but it always comes with a little resistance.
F'reaxmple, let me clue you in on some of the trials I've dealt with since starting this little business.
FIRST ROADBLOCK..! A FALSE START
First, I determined that I was going to use a brand spanking new Fiverr account.
This is so that no one could call foul:
"Well you already had a Fiverr account in place… so that step was already done BEFORE you started the 30 days!"
I wanted to show everyone a start from scratch. So I did.
I set up a new username called, "Funnelvision" (get it? 'coz I make marketing funnels

)
That's all I could really do for the first day.
The next day I added a "gig"… a service offered for sale for five bucks.
The next day I added another.
When Something Sounds too Good to Be True, We-e-e-ell…
Now, realize that I've never used a Fiverr account to make serious profits.. only to do market research and get paid for it.
So to help me grow quickly, I was using a PDF somebody sent me called "Fiverr Boss"  to learn "How to Easily Make $4,000 Your First Month".
Whoa.
So after trying to put in place some of the strategies this guy was talking about, it was evident that I needed a little help.
I tried writing him at the support email…
…tried pinging him on Twitter…
…tried going to the website Fiverrboss.com…
…and the Facebook support page…
…NOTHING.
The guy is just plain GONE.
Now, I wasn't sure if there were some legal ramifications to this, but as I dove deeper into the book, I discovered that:
1) having multiple Fiverr accounts
2) joining a group of Fiverr-ers that leave each other a pile of positive reviews, and 3) taking on lots of work that is then outsourced to other service providers
…were all SERIOUS no-no's in the world of Fiverr.
In fact, I could get BOTH of my accounts suspended.
SO rather than risk that, I took down the "Funnelvision" account, did my best to copy the gigs from there to my other account, confessed my sins to Fiverr central, and prayed for a couple of days.
A few days afterward, The Powers That Be granted me a second chance. I licked my wounds and went back to my shoestring101 account. Since then I've generated a whopping $15 in sales with my gigs related to this 30 Day Challenge.
But hang on. It was looking bad, but it gets better. And better. I'm still optimistic.
Second Principle: Find Out The W's
Now hopefully you realize that I have no aspirations to be a Fiverr Super Seller.  Nor do I want to use black-hat techniques to try and stretch what Fiverr can do for me and you. I'll be honest… I don't think that Fiverr is where I'll earn $1,000 this month, or any month.
But it's an EXCELLENT place to conduct market research. There at Fiverr I've been Finding Out the W's- Who Wants
What, and Where and hoW to find them.
See, Fiverr is not just a platform to make little chunks of money at a time and hope it adds up to a lot… it's a place to hone your skills while also learning your target market.
You may have seen a little post of mine on this principle called,
How to Use Fiverr to Validate Your Business Idea.
So many times, people miss out on this. Not just with Fiverr but with any "starter" platform … they look at how much they are making per hour instead of what the experience is bringing them.
Tell me, what college do you know of that will teach you a marketable skill… and pay YOU a nominal amount while you are learning?
Some folks want to go to school to learn marketing. I'd rather take my piddly per-hour PAYCHECK for launching my knowledge base… instead of drowning in student loans.

That brings us to the Third Principle of Shoestring101…
Third Principle: Learn to Create Value
Y'know, that per-hour idea really sticks in some people's craw and they can't seem to remove it.
Interesting… in my first 30 Day Thousand Dollar Challenge I didn't give daily updates. In THIS one I offered to give daily updates, but only to Subscribers that wrote me and said, "Put me in the list, Kurt".
I have had more people unsubscribe in the last two weeks than ever before. Seems most folks want the dazzling numbers… they want to see me making a hundred bucks a day with a 1/2 hour effort when in fact I've put in two, three hours a day and so far I've made just over a hundred bucks with my copywriting and sales funnel designs.
Fiverr took its commish for the gigs it's given me, so right meow we're at $112. Figure it's been 2.5 hours or so per day, times 20 days… well, YOU do the math. I've been gettin' just over two bucks an hour.
But..!
The Amount is Not the Point; the STEPS Are
I like to point out that when you sell a used bike on Craigslist or in a garage sale… that's a business transaction.
But! DO the steps that it takes to get bikes for cheap and get 'em to bike buyers for less cheap…
… and record those Steps so you can do them over and over again..
…now that's a business system.
Once the system is in place, you can start to bring up your hourly rate big time.
So I'm not concerned at all with the amount of cash coming in for this side venture; soon it will be more bizness than I can handle.
Because I've been learning the system… for marketing MY particular copywriting and funnel creation skills to the particular peeps that need them.
It's all in how your market perceives the value you create for them.
And for the last twenty days I've been cracking the code of how to best communicate that perception in a way that makes folks get out their wallets.
For example, my
"I Will Write High Converting Copy For Your Website For $5"
and
"I Will Design A High Converting Sales Funnel For $5"…
…fell flat on their faces.
So I took a stroll around Fiverr itself and noticed that a LOT of these (actual!) kind of gigs getting boo-koo attention:
"I Will Evaluate Your Website as a 1st Impression Viewer for $5″
"I Will Analyze Your Website and Blog for $5″
"I Will Give You My Professional Opinion Of Your New Business Idea for $5″
"I Will Read Your Stories and Tell You What I Think for $5″
Hey… do YOU see a pattern forming here? Opinion, evaluate, tell ya what I think…
Seems that more than anything,  small biz owners running websites want feedback. Honest feedback about how to improve.
I have to say that I'm in the EXACT same boat; it's downright EASY for me to detect errors and things to improve in the websites and the small biz ventures of others. I can  see the forest because I'm not stuck in their particular trees.
But when it comes to my own websites and businesses… I need an unbiased, outside opinion to really get the scoop.
Creating Value For Customers
So, first thing I did on Fiverr (once I extricated myself from the multiple-account fracas) was to update the kinds of gigs I was offering.
Now I'm STILL offering to improve people's web copy and tweak their sales funnels.
BUT..!
The element of  "provide my opinion", "analyze", "evaluate" has been added.
Creating Value with the Title
Instead of
"I Will Write High Converting Copy For Your Website For $5″
it's
"I Will Analyze Your Web Copy and Improve it For $5″
Creating Value with the Images
One of my FAVORITE tools to mess around with images is PicMonkey. Here for free, or for $4.99 a month for premium features, you can add frames, effects, text, or other pics to your pics.
Check out my value-adding, attention-grabbing cover images, added in the last few days:
Creating Value With Video
Also, it's been said that gigs with accompanying videos sell 220% more than those without.
So yesterday I put the following descriptive vids on Fiverr, and also on YouTube:
Creating Value for Myself
Now here's a layered approach to driving traffic to my gigs:
The YouTube vids are easily shareable, and the links back to the actual Fiverr gigs are in the description so that adds another way for folks to find my solution to their problem.
I'll share the videos myself on Twitter and Facebook. Those vids may also get passed around.
The links lead 'em back to Fiverr. Fiverr makes them customers. Then I get more work and more testimonials, like these:
What's happening here is NOT me building a thousand-buck-a-month side gig on Fiverr. It's me discovering what works… building a system… and fleshing it out.
WITHOUT hiring a coder to make me a killer website for $1500, then thrashing about in the dark trying to find out what works.
By getting my sea legs here on Fiverr, I'm finding out what kinds of words, what kinds of images, and what other factors create the response I'm looking for… the buying kind.
Especially among competition.
I'm learning the hopes, fears, and needs of my target market.
I'm gaining a reputation, and garnering testimonials.
Testimonials that I can use later in the marketing of my skills and the skills of others…
…yes, WHY should I keep all the glory (and the WORK!) for myself?
No, if I can cobble together a system for grabbing customers that need web copy written and sales funnels designed, it only makes  sense to begin referring work to others more talented than myself.
Yup.
Right now, we're looking at $112 profit on day 20 of this particular 30 Day Challenge.
But I'm thinking it might just be the start of something much bigger.
If I'm wrong, well! Instead of gambling borrowed money away… like a lot of folks do when they start a business venture…
…I will have gotten paid $112 to find out it's not worth the time.
Beats the living snot out of debt and heartache, doesn't it?
That's the Shoestring101 way.
Okay Steppers! Sound off below. If you think I'm wasting my time with this month's challenge say so. Or if'n ya think I might be onto something I'd love to hear that too! I've been getting equal parts "feedback" (like Subscribers quitting) and encouragement (we're pulling for you Kurt!) and to tell you the truth, BOTH are helpful.
Put YOUR two cents in the bottom line.
Keep Stepping,
Kurt