If you're new here, there are a couple of things you'll want to know about SS101.
First off, this is what we're all about here: to get you what you need to succeed at starting, marketing, and scaling your own business.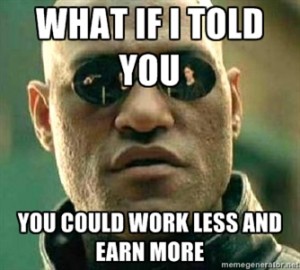 Starting a business used to seem so risky and intimidating: you need to borrow a pile of money, don't you? Or work long hard hours for nothing. Or take on partners that gum up the works so you do more than your share and don't get anything done.
NAH.
Because YOUR success is what's important, I might just send you somewhere else. If the content that you need isn't found here, I want to refer you do where it does reside. And quick. That's what we're about. BTW, if you:
Want to know something about starting, marketing, and scaling your own business, OR:
if you happen to learn something cool about starting, marketing, and scaling your own business…
… and it's NOT
already
here, then let us know.
Here's the Contact Us page
. We're all about finding and getting the info to you that you need. Or want to share. So if you have a request for some cutting edge info for entrepreneurs… or wanna write the same for us… then trot on over and get a hold of me pronto 😉
Once you've reached the limit of what I can do for you, I have some great suggestions of where to go next. But first, here are a couple of things to start you off right on THIS blog.
Check out "The Mission". It'll tell you in 30 seconds or so if this site is for you,  before you  spend another minute on Shoestring101.
Read "The Shoestring101 Story". It's a short, cute story of how a 19-year old punk ( ME! Well, me 26 years ago 😉 ) learned the secret to generating a great side income without a big investment. While in college I learned… before the internet age, mind you… a way to do part-time work and get full-time money. Flexible hours and great pay equaled a happy, happy Kurt while I was in college.
Also, read "The Shoestring101 Steps".  I like to call these the "Five Steps to Five Figures". Also contained in the Shoestring Story PDF is an explanation of how the Shoestring101 Story actually worked for me; how these Steps can be applied to turn just about any hobby or interest into a business opportunity paying five figures per month. Strangely enough, the further you get in the Steps, the less work you are doing, but you earn more. Whoa.
SS101 Interviews: These MP3 podcasts are done with successful business owners that have walked the walk and turned their interest into a business.
I am always taking SS101 interviews though the schedule is tight. Only requirements are that you are making five figures per month in a business that you started without a loan or risking a huge amount of savings on… essentially starting with nothing or close to nothing (a "Shoestring")… and are willing to share your experiences. Please contact me if you are interested in being featured in a Shoestring101 success story.
Instructional Videos: Some of these will be generated by me, and some will be 'curated content'. What they will ALL do is provide Step-by-Step instructions on how to do one aspect or another of promoting your business.
Disclaimer:  The "Shoestring Steps" (or "Five Steps to Five Figures") are proven. They can be found in the success stories of countless business owners that took a passion of theirs and, using more energy than money, turned their idea into a full-time income. But I can't guarantee that YOU will be successful using them. That depends on your hard work and persistence, blessings from above and maybe even a little luck. Before taking action on ANY content here, click here to read a more thorough disclaimer about earnings and risk of owning your own business.
You can subscribe to this blog and get guaranteed fresh content by going here. I won't spam you every day, but will keep you up to speed on what Steppers everywhere are doing.
Keep Stepping,
Kurt