Hi. My name is Kurt Frankenberg, and I'm a startup-aholic.
"Hi, Kurt!"
Naw, this isn't a twelve-step program. And I aint' trying to quit, either. 😉
Welcome to Shoestring101, where I get to share the shortcuts and hacks that I've learned over the last 27 years about how to start, grow, and scale a "Bizness".
That's right… a plain-vanilla BUSINESS is for some people, a job with longer hours and less pay. A "Bizness" is you taking your heart's love, connecting with others that love it too… and crafting for yourself and your community a way to get paid, enjoy life, and do 'real' work. Not toil, not drudgery, but ass-whoopin' work that has great meaning and clarity for you and the folks that you connect with.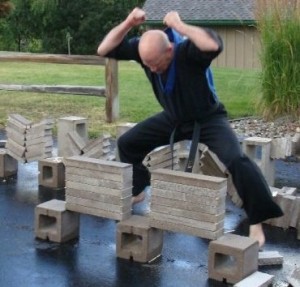 WHY This Site is Different From Others in the Same Space: Biznesses I've Started
Sticks and Bricks: Martial Arts Studio
I began building 'Biznesses' way, way before the internet age. As a snot-nosed 18-year old kid, I took my heart's love… training in the martial arts… and opened my first studio in 1986. With less capital than you might take in from a weekend garage sale. That Bizness is STILL in operation, 27 years later… 'cause I love what I do.
Service Business: Lawn Aeration
Later on, when I needed a little extra side income for college, I got a 'real' job for some regular work… then almost accidentally started another 'Bizness' that gave me flexible hours with great pay. Again, there was almost zero capital investment. The story of this nifty side Bizness that made a 19 year old kid $25+ an hour… back in the EIGHTIES… is included on this site in just 250 words. But this cute short story encapsulates all five of the Five Steps to Five Figures a Month. Check it out when you get a chance.
More Service Businesses: Creating Value, Creating Jobs
After a particularly nasty divorce in 2002, I scaled down my martial arts studio for a time from a 3,000 square foot full time studio with several employees and hundreds of Students, down to a two-night per week club. I just needed a rest. But then, again employing the Shoestring101 Principles I began a window cleaning company. Not only did it pay my bills, but I was able to help a Student that had been a project manager for WorldCom (Yeah, THAT WorldCom) replace his income instantly by showing him the Bizness.
Information Product: "The Blueprint"
Again using the Shoestring101 Principles, I took an interest of mine… stock and options market investing… and turned my knowledge of how NOT to get hurt into an information product. Again, this Bizness was built on a Shoestring… I simply blogged about what I was personally doing in the market, using risk-reducing techniques that most folks (besides hedge fund managers) don't know how to do.
Along the way, a number of followers on my blog asked me if I had written a book about the unique technique I was using… to keep my risk down to 5% or less in any trade, but leaving my upside open for growth… and collected over $2,000 in pre-publication reservations before actually writing the book. It's now a bona-fide MOVEMENT in 38 countries.
The Blueprint has sold over $1 Million worth of copies and related subscriptions, but was self-funded all the way; I started with less than a hundred bucks of capital invested in this Bizness and poured funds back into it from money it was producing.
Which Brings Us to YOU..!
The reason for this blog is to offer encouragement, support, and a couple of insights and techniques… "Life-Hacks"…that I've learned over the years as an entrepreneur.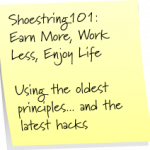 The Shoestring101 Mission:
1) To be THE "go-to" resource for Bizness Owners to come to for help.
2) To provide a Step-By-Step Plan for building Biznesses so we can realize this ideal:
"Have More Than Enough, by Doing What You Love"
3) To provide a platform for today's best thought leaders in the fields of marketing, both on- and offline… blogging… automation… social media… motivation… basically ANYthing that relates to the concerns and needs of small and not so small Bizness Owners all over.
The Shoestring101 Principles aren't really that unique; everything I've recorded here can be found in success books going back a hundred years. Likewise, they can be found on the newest Twitter Post by the hottest new 'guru'. It's all the same; truth is truth.
Timeless principles shared here have worked for centuries and still do. The hottest trends and newest tips, techniques and hacks are all founded in the same deep process that has been around for a long, long time. If what I talk about here with my tone and my particular point of view resonates with you, fine. If not, I wish you well on your journey because "He that seeks, finds."
Do me a favor though? Follow at least  a couple of links on this site, and find out if there's anything useful to you. If any particular post, hack, technique or principle helps you, let me know. I answer all comments and email personally, though it may take a while if I'm travelling.  If there's something in particular that you've learned and want to share, drop us a line as well. And if you'd like to write for us, take a look at our guidelines for contributors and guest bloggers here.
I'm open to all comments and criticism, as long as it's aimed toward making Shoestring101 a more useful site for YOU. Hope to hear from you soon! Til then,
Keep Stepping!
Kurt