Well, Howdy Steppers!
In today's post I'm writing about the results of the four-week challenge I took, using Ana Hoffman's free traffic building techniques. I was s'posed to start on August 12 but got delayed a bit. So from August 16 to yesterday is where I made my measurements.
My initial post, How I'm Promotiing the "ISH" OUtta My Blog…FREE! would be a good place to start if'n you're tuning into this channel late.
Ana Hoffman of Traffic Generation Cafe: Guru or Hoaxster?
Did I DOUBLE my traffic for free, as Ana claims is possible?
Strictly speaking… no. Doubling would be a 100% increase.
I only had an 89% increase in traffic.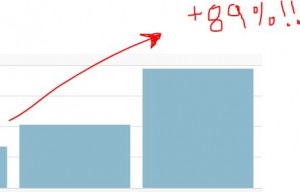 For free.
How disappointing.
WHAAA..? No, that's freakin' AWESOME!
Seriously, when you consider that during this time I had some serious problems with my mom-and-pop hosting… one total blackout when they changed servers without telling me… and another debacle when I tried to upload a plugin and my site reverted to July 22…
… an 89% bump up in traffic with no paid traffic at all is downright amazing.
I'm still reeling from the impact a bit, but I know I can do even better. In fact, I'll be surprised if my traffic doesn't have another comparable level-up again over the next 30 days with Ana's techniques.
What I Learned from Doing this Free Traffic Challenge
First of all, I learned that I need to ditch the less-than-professional web host that I had been using. That was a REALLY stressful ordeal.
I learned that it's important to seek quality alliances rather than to simply comment for a link's sake.
I learned that being more organized and purposeful with blog promotion really makes a hella difference.
I came up with a simple idea for systemizing my blog commenting approach as well…. watch this space for a post on that soon.
I also learned that my mentor in this particular endeavor, Ana Hoffman… really knows her, um, ISH.
Visit the post that inspired this challenge that brought me an 89% bump in my traffic for free at
http://www.trafficgenerationcafe.com/how-to-promote-your-blog/
 A Slew of Benefits from Increasing my Traffic Free
It was nice to see more peoples on my page. But I also got a 57.5% bump in engagement… that is, more of the folks that came to the blog also commented there on the blog, or hit me up on Facebook/Twitter/Email/Google+.
This engagement, besides being rewarding added credibility, while adding to the conversation.
As my Twitter friend Brooke Ballard of B Squared Media puts it, "Think Conversation, Not Campaign."
You might know from my epic post How YOUR Comments Create Value 😉 … value is created at least SIXTEEN ways by blog comments. Value for the readers, value for the commenter, value for ME.
Not the least of which was making new relationships with other bloggers, mentors, and potential customers.
It also encouraged me to improve my writing. After all..! If more peoples are coming, I'd better put out the good linens 'n' china.
Finally, I got a coaching client. I'll letcha know how her business grows with the addition of the Shoestring101 Principles.
What's Next for the Free Traffic Challenge?
Well, I'm obviously going to keep going with this amazing traffic-building challenge. Truth be told, I only actually executed about half of the techniques that Ana lays out, because of time constraints. The bottom of the page… content LEVERAGING… looks to be a veritable goldmine of free traffic.
"Content leveraging" is something that I've used before in my other businesses; essentially you repurpose content from one kind of platform to another. A blog post becomes a Powerpoint. A Powerpoint becomes a video or SlideShare. A video becomes a podcast, or vice versa.
The best part of the content leveraging is that you get all the joy and fulfillment (oh, and FREE TRAFFIC..!) that a brand new piece of content gives you, but the work is cut by more than half. Because the really hard part… creating the first draft in the first place… is out of the way already.
I've got a boatload of posts on this site. Mostly it's rambling; about ten percent is pure gold that the readers have liked. Now the good ones just need more of an audience!
You can bet your sweet li'l bippy that after proving Ana's other techniques for myself,  "content leveraging" will be applied to every single winning post I've done.
What about YOU, my darling dearest reader? Has this success story given you the inspiration to try out those free blog post promoting strategies for yourself?
What if you only do half as well, and add 45% to your readership? Would that be worth the one-time setup that takes around an hour, and the fifteen extra minutes or so that you tack on to each post after that to see an increase of 45% in 28 days?
Well, if ya think maybe it might, let me link you out one more time to the Queen of Traffic, Ana Hoffman.  And her EPIC post about promoting your blog for free.
Steppers, let me know who'd like to take the challenge. Leave your comments about my challenge and what you think YOU'd like to do about it. I'll pay ya in coffee if you beat MY numbers… $25 in SBUX… and I don't think it'll be that particularly hard to do if you can follow simple instructions.
Keep Stepping,
Kurt