Hello Steppers!
In today's friggin' AWE-INSPIRING, 1,000 word, four flippin' sweet minutes to read post:
My new virtual BEST FRIEND (yes virtual… never even shook her hand 😉 );
My BLATANTLY COPYING everything she says to do in her landmark post;
The beginning of my four-week experiment to see if I indeed double my traffic.
Cool?
Introducing the Queen of Traffic, Ana Hoffman.

Ana is a Russian-born American citizen that's cracked the code for internet traffic. Her blog, TrafficGenerationCafe.com is an ongoing quest to teach (by example) the most cutting-edge techniques for getting the right eyeballs to your site… FREE.
Yes, free. Now, there are a few investments to be made; a serious blogger or marketer of any kind knows that certain premium services need to be had at a price. If you check Ana's site it's recently been tricked out by legendary web designer Ian Belanger… she has all the best paid plugins, apps, bells, whistles.
But..! What Ana DOESN'T spend money on is pay-per-click TRAFFIC.
She generates all that by way of:
1) (paraphrasing Corbett Barr) she writes some seriously EPIC… um, 'ISH.
2) She invests nothing but a little time applying military-grade blog post promotion techniques.
Which I'll share some of in this post.
There's a pretty fantastic claim on Ana's front page: DOUBLE your TRAFFIC in 30 DAYS.
Mmmmkay. So I wrote Ana and asked her did she really get 5280 likes to her Facebook page… 4,186 followers on Twitter… 200,000 views on SlideShare… and multiple hundreds of comments on dozens of her blog posts… FREE?
"Yes," Ana replied. "I never paid a dime of any of it."
So, though she writes with a Russian accent 😉 we'll cut her some slack.
My Four Week Traffic-Doubling Challenge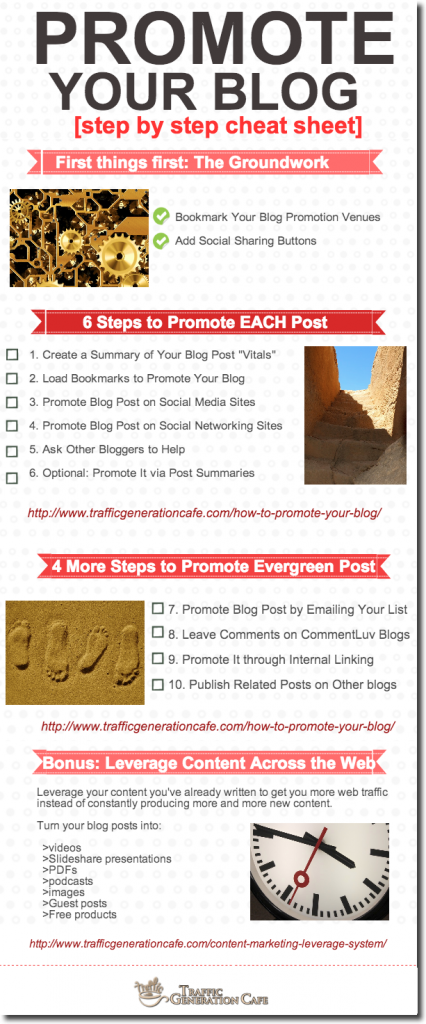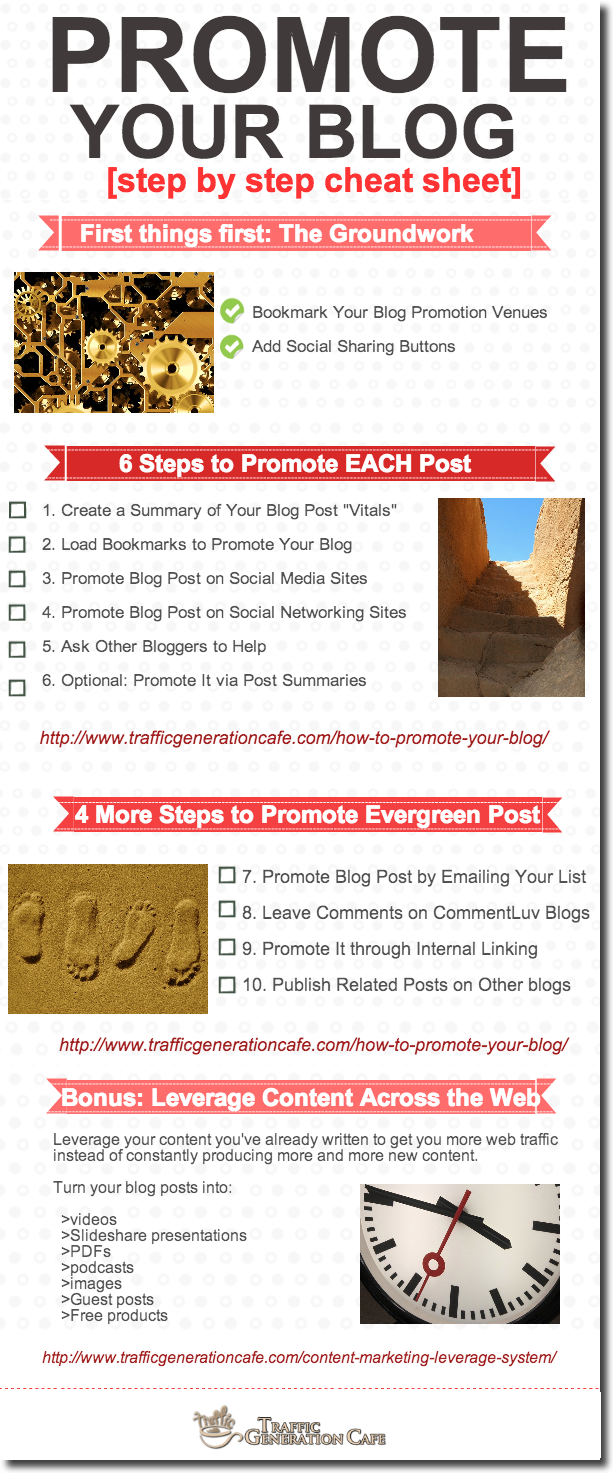 I began my four week challenge on August 17. That's when I decided to siddown and actually go, step-by step, through this infographic.
I wanted to report my two-week findings on the 31st but I'm a few days early. Look for another, followup post on September 14 (or thereabouts) for the full four-week challenge.
Heh. things are lookin' GOOD so far…
Phase One: Bookmarking
The  "bookmarking" phase was a tiny bit tedious to set up, but it's easy to see how it saves MASSIVE time in the future.
Essentially, you use Google Chrome or another browser that allows you to open a dozen or more tabs at once. Then you dedicate a folder in your bookmarks to sharing sites like bizsugar.com, blogher.com, etc.
Also in your tabs folder are your social media properties: your Facebook page, your Google+ page, LinkedIn, etc.
Once you've prepared your folder with every bloomin' internet address you wanna blast your post out to…
We gotta go to Phase Two: The Vitals
Note to the reader: I'm blatantly copy-and-pasting the following directly from Ana's post. There is a LOT there that I did not copy or capture for this li'l old post of mine so if you really want the straight poop, go to http://www.trafficgenerationcafe.com/how-to-promote-your-blog/ and let her drop the knowledge.
ANA:
Before you can efficiently promote your new blog post, you need to gather the following information about it:
Post URL.
Post title.
Short description – the kind that would make someone want to click on it.
Bloggers who you linked out to/mentioned in your post (and you should link out in EVERY post you write!).
Tags (keywords that describe your post).
(Okay, back to Kurt) After organizing "Vitals" of each post, it's time to open up all of your bookmarked blog promotion tabs at once. You get on your bizsugar page, por exemplar, and copy in the link… moving on to your myseocommunity page… and so on.
You've got to see Ana in action doing this to fully appreciate the speed and efficiency:
How to Promote the "ISH" Outta Your Blog by Ana Hoffman (video)
Okay, so after plugging into blog sharing pages, it's time to move on to social media. Ana recommends that using a post scheduler, you share 3X on Twitter throughout the day…  plus several updates to your Facebook like so:
(Ana again) Schedule at least 3 updates focusing on different aspects of the post.
Ask a question; link to the post with an answer.
Upload an image from the post.
Upload a video from the post.
Post a comment with food for thought.
Give your fans a challenge.
(Back again to the Kurtster) Following Twitter it's on to Pinterest, LinkedIn, Google Plus. It's as easy as copying and pasting your "Vitals", plus doing a few certain tweaks that pertain to each social medium. F'rinstance, on Pinterest you share images and videos with appropriate titles and captions. Again, you just gotta visit Ana to get the full treatment; I'm just hitting the highlights here.
A Few More Key Insights I got From Ana's Method
Besides the cool, quickie copy-and-"post" technique, Ana's 10 Steps to Ultimate Blog Promotion  contained:
The importance of shout-outs and enlisting the help of fellow bloggers;
Mailing your email list to alert them to yer new, AWESOME content;
Using CommentLuv to attract comments on your own post;
Commenting on CommentLuv-enabled blogs to point link juice and friends your way (I have a BRILLIANT post on this subject entitled, How Your Comments Add Value 😉 )
Internal linking: see the above bullet point for a shameless example of that
Finally, and probably the most important: CONTENT LEVERAGING. Once you put your heart and soul, not to mention copious amounts of caffeine, into your post… why not 'spin' the content into a PDF… a SlideShare… a YouTube vid… on and on.
This last method has worked out very well for me on my other blogs; f'rexample I have site about finance that's done well with essetially the same content in PDF form… emails… webinars… and videos. ONE medium does okay, TWO media give it more buzz… THREE or FOUR or MORE shoot all of your content into the stratosphere. Because it's shareable and accessible to more markets.
Well, dear Stepper I've used up my 1,000 words. It'd be WELL WORTH IT for you to join me in this quest. As I mentioned at the beginning of this post, Ana claims never to have paid a time for any traffic. Likewise, I have never paid for any visits to Shoestring101. But lookee at the big-arse boost in traffic I've gotten over the last coupla weeks:
You may see a sudden drop-off but that was not due to this promotion method… it was due to my hosting company changing servers without informing me and traffic being totally suspended for nearly 24 hours. Nevertheless you see a climb, then the precipitous plunge… then a climb again.
I am ONLY using methods recommended by Ana Hoffman, and even so I haven't found time to do 'em ALL… yet you can see we've had a preety dramatic result here so far.
So who would like to join me in this grand experiment? For the next two weeks I'll continue to use these methods and report to you again. Do it with me! Put your commitment to try in the comments. Whoever gets the greatest spike in traffic from September 1-30 will receive a $25 gift card to Starbucks, not to mention… well, a huge spike in traffic. Duh. Leave me your commitment to participate in the comments section. Til then,
Keep Stepping!
Kurt
P.S. Did I mention that this is just a summary of SOME of Ana Hoffman's traffic hacks for doubling your traffic? For the rest; run, don't walk (well, okay, CLICK) and go to see Ten Steps to Ultimate Blog Promotion on TrafficGenerationCafe.com.